Today (18th November, 2020) sees the publication of SchoolDash's new analysis of patterns of school professional development expenditure, in collaboration with the Teacher Development Trust.
Headline findings include these 5 key points:
In 2019, reported staff-development spend at state schools in England amounted to just over £260m. In nominal terms, it has been flat since 2015. Allowing for even modest annual inflation of 1%, it was lower in 2019 than in 2014.
Among all state schools in England, every year since 2017 has seen a larger proportion of schools decrease spend than increase it. That's 3 consecutive years of more schools cutting CPD budgets than increasing them.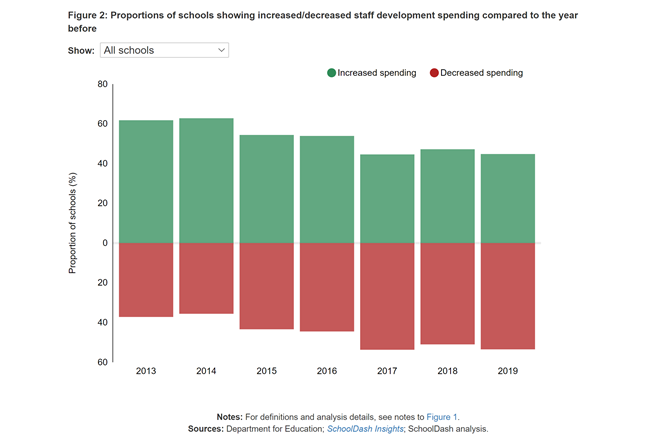 The vast majority of all state schools in England, and especially secondary schools, spend much less than 1p in every £1 of expenditure on professional development of their staff. There is some evidence that this may be significantly lower than other, non-education industries, even taking into account cover costs Even though how much is spent doesn't tell us how effectively it's spent, it is surely a great concern that this is the national picture.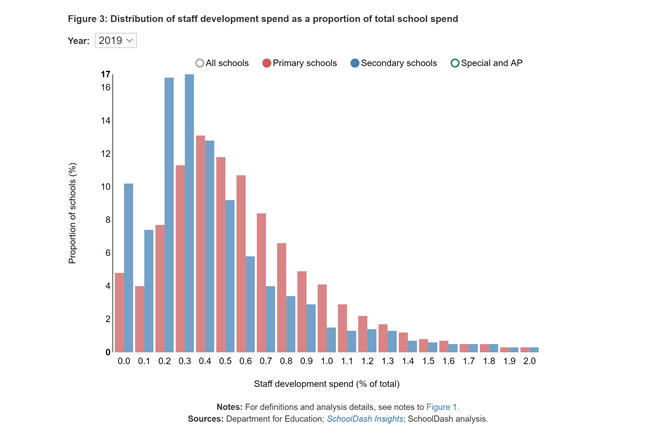 As in previous analyses, it remains the case that schools in large Multi-Academy Trusts (11 or more schools) tend to allocate a larger portion of their budgets to professional development than other types of schools.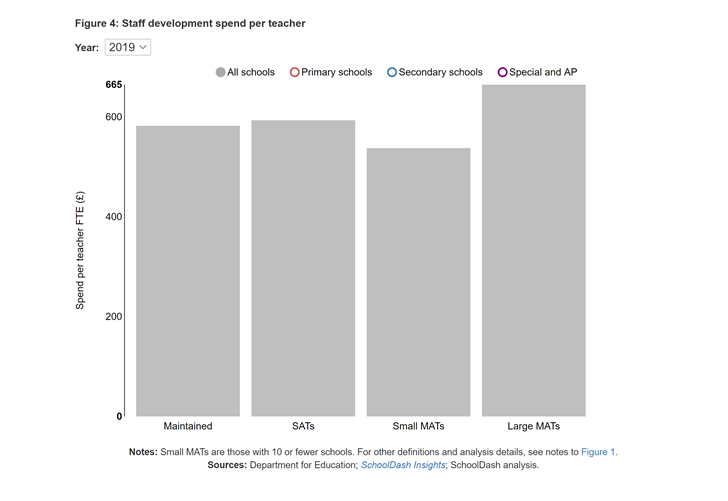 There continues to be wide regional variation, with schools in London allocating over 20% more per teacher than schools in the South West.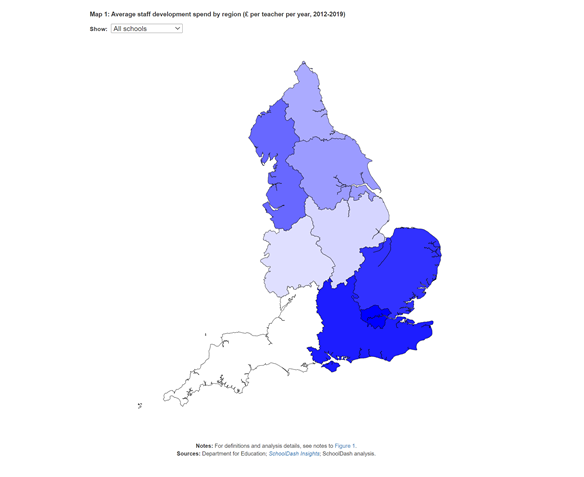 You can see more detail, including interactive maps and charts, on SchoolDash's blog.
What are the implications? Well, raw CPD spending figures can't tell us everything about school expenditure, because:
They don't necessarily include costs allocated to cover staff who are out training
They don't include salary costs where staff aren't teaching but are engaged in CPD activity
They don't include salary costs of internal additional staffing to free up other staff for CPD activity
They don't include professional learning discussions within team meetings, 1-to-1 discussions including appraisal, or self-study
They don't include CPD that comes as part of other investments (such as technology, or curriculum products coming with training)
They don't include CPD that is paid for centrally (e.g. by the Department for Education, an Opportunity Area, a Local Authority, a central Trust offer or a local Teaching School offer)
They don't include CPD that comes as part of a school improvement support programme, paid for out of another budget.
These are a lot of limitations! But the raw figures themselves still tell us a significant amount. These figures includes budget allocated to allow staff to engage in, for example, accredited study, whether Master's level or other qualifications such as NPQs. They give us a very rough indication of how much opportunity staff may have to get out to external courses and conferences (aside from those ones funded in other ways). And while the level of spending can't tell us how effectively the money is being spent, surely schools should be aiming to prioritise both effectiveness and the level of resource?
Today also sees the launch of the NAHT-supported School Improvement Commission which argues that professional learning should be at the heart of school improvement. At the TDT, we heartily agree, and will be co-hosting an event today alongside the Wellcome Trust and NAHT in which we start making the case for school improvement through professional development. Watch this space for more details…