Getting Better Teaching: Part 1 – Teacher Experience
This is the first of a short series of blogs covering my talk from ResearchED Birmingham, from the 2nd of March, 2019.
We have an increasing amount of evidence about how we can improve the quality of teaching and learning. In this blog, Part 1, I look at the value of having more experienced teachers.
Teacher experience
The first thing I want to look at it is experience. There is plenty of evidence that teachers get better over time, initially more quickly and then, typically, a little more slowly from around three to five years in.
In the first five years, we find there is some correlation between being less effective and leaving teaching: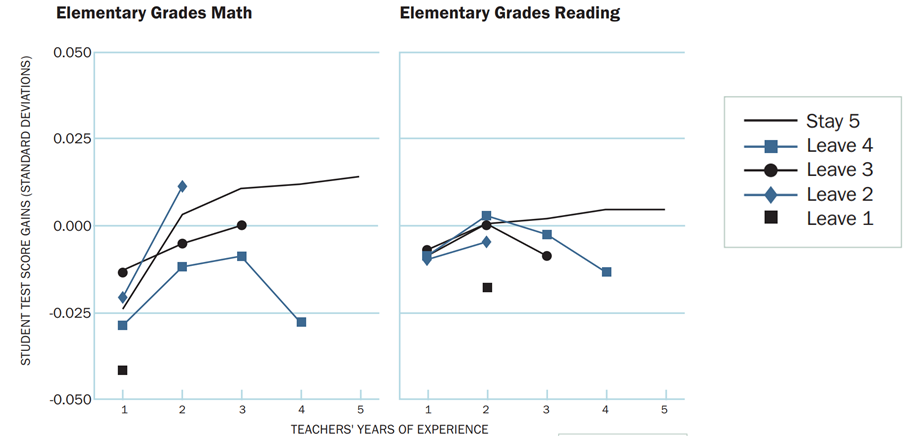 This graph of Henry, Bastian and Fortner's 2011 study (as drawn in Kini and Podolsky, 2016) shows that in some cases, leaving teaching was associated with a drop in effectiveness (as measured by academic outcomes), although not in all cases. However, this is a correlation, we can't know if deciding to leave caused a drop in results, or a drop in results caused leaving, or whether there were other factors affecting both.
What is does show us again is another example of how the teachers that stayed became more effective over time, in terms of academic outcomes.
It turns out that more experienced teachers are not only better at academic outcomes, they also improve attendance: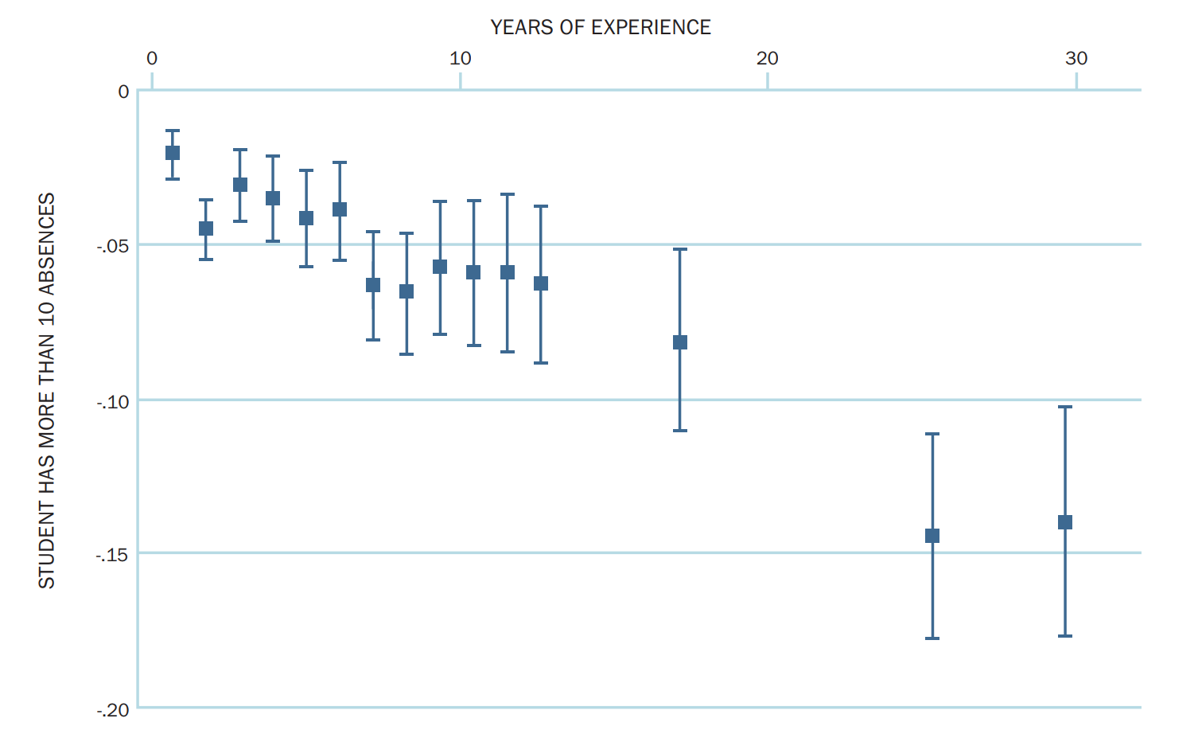 This graph of Ladd and Sorensen's study, (again as drawn in Kini and Podolsky, 2016), demonstrates how, the more experienced that teachers get, the more effective they are at encouraging attendance. It is particularly striking how effective the teachers become beyond 20 years in the classroom. Not only that, but the authors note that
"teachers with 21–27 years of experience reduce the number of students with over three absences by 5.6 and 4.4 percent respectively, [but reduced] the number of students with over 17 absences by 18.8 and 12.2 percent."
This is striking – more experienced teachers not only improve academic outcomes and non-academic outcomes, but a very experienced teacher is particularly effective at reducing absence of the most vulnerable pupils.
However, the benefits don't even stop there. There is also evidence that experienced teachers make their colleagues more effective. Kini and Podolsky summarise Jackson and Bruegmann's work by noting that:
"teachers improve in their ability to raise their students' test scores […] when their peer teachers (those teaching at the same [year] level) have at least four years of experience"
"novice teachers benefit most from having more experienced teachers as peers, and that the quality of a teacher's peers has ripple effects for that teacher's students' achievement beyond the current school year"
This is a pretty major finding. We can help our most inexperienced teachers improve simply by ensuring that they are working loosely alongside more experienced colleagues. The impact of this can be seen in pupils' achievement over some time.
What are the implications? Well, look at this graph that Cambridge Assessment draw to illustrate some OECD data on average age of teachers: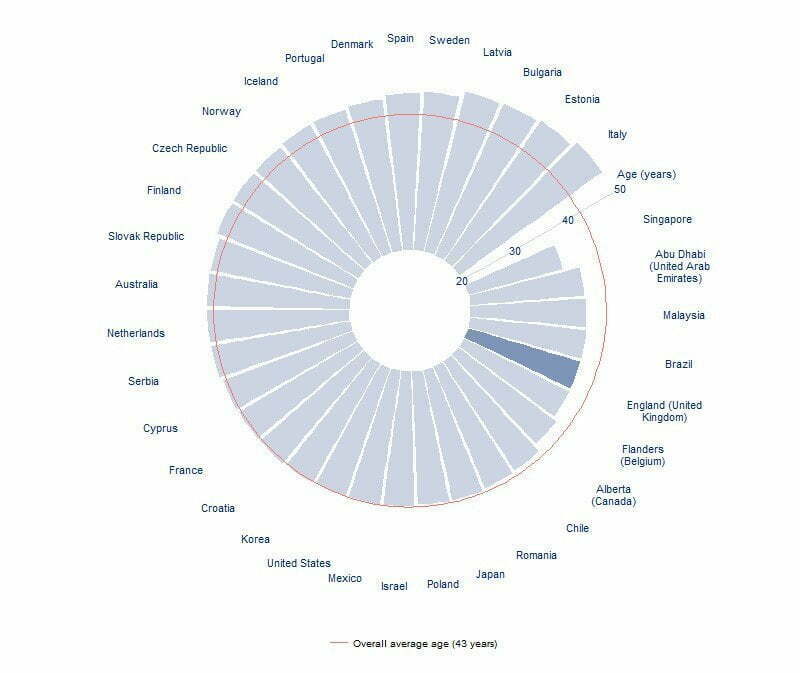 England has one of the youngest teaching workforces in the world. And yet, we know that one of the best ways to improve pupil outcomes, attendance and teacher development is to retain our more experienced colleagues. Much food for thought!
In part two I'll be exploring the school working culture and professional environment. Later, in part three I'll be looking at the value of stability, in part four I'll look at performance management and in part five I'll be looking at professional development processes.