Extraordinary Leaders
Empowered Staff
Expert Schools
TDT: The smart, heart, humble education charity for professional development
We help give you the clarity, confidence and capacity to build and lead a culture of expertise in your school or trust, where empowered staff thrive so that children succeed.
Our reflective, diagnostic approach gives leaders confidence that effective professional development is prioritised and that all staff participate meaningfully in tailored, evidence based training that builds expertise in an empowering way. External evaluations of our work show positive impact on teaching and learning, morale and teacher retention.
Using a strong international evidence base of what constitutes successful teacher professional development, we work with partners across the education sector to promote the principles of effective and impactful Continuing Professional Development (CPD) through:
TDT Expert School Network
Stimulating demand for high quality CPD through the growing national and international network of schools and colleges engaging in our programmes. Our Expert Schools Network Membership provides world class, evidence informed professional learning, knowledge sharing and research. We foster collaboration and networking opportunities among teachers, school and system leaders, and educational organisations.
Publicising and disseminating research and insights, campaigning and advising government  to raise the status of professional development.
We play an active role in advocating for the importance of teacher development at policy level; working with policymakers, educational bodies, and government agencies to shape policies that prioritise and support high-quality professional learning opportunities for teachers.
We are SMART – all of our work is deeply rooted in evidence. We want to know what works and seek out the brightest and the best minds to help shape our programmes, research and advocacy.
We have HEART – teaching and learning is about people and connection. Even the strongest evidence for improvement will be ineffective if not implemented by expert, empowered teachers at the front of the classroom. 
We are HUMBLE – we are always curious, we are always learning. We are led by the evidence, but we also have the humility to keep testing our understanding and adapt.
What teachers and school leaders say:
TDT NPQs
"Staff are very much valuing their engagement with the Teacher Development Trust on the NPQ suite of qualifications. High quality input to promote high quality thinking to support high quality organisations."
Expert Schools
"Being part of this project has been a key driver in our school improvement. Our recent HMI visit recognised the changes we have made as a result."
NPQ for Leading Teaching
"The range of formative assessment strategies obtained from the qualification, alongside considerations to cognitive load, has increased academic attainment in my classroom – also evident via KS2 SATs results."
Expert Schools
"Being involved in this programme has been reassuring, supportive and has provided our school with direction and clarity on the academy's CPD priorities"
NPQ for Leading Teaching
"The NPQLTD has increased my awareness of how the culture and climate of a school significantly contribute to implementing a new initiative"
Expert Schools
"I feel the approach to CPD of ALL staff has become more strategically aligned with the school's development plan."
NPQ for Headship
"The NPQH is a great learning journey which I would recommend to anyone who is on the SLT of their school."
Expert Schools
"Although change is something sweeping through my context in so many ways, having a research-informed and well thought through approach to professional learning has provided a useful anchor in turbulent times."
NPQ for SeniorLeadership
"The quality of TDT's NPQSL content is first class. It is knowledge rich and research driven."
of teachers and school leaders would recommend their TDT NPQ to a colleague
*Percentage of respondents in survey
"The course material is utterly brilliant. Such high quality and carefully crafted. The spirit and ethos of TDT is forefront."
Number of teachers and school leaders who have participated in TDT NPQs
Number of schools that have benefited from TDT's Diagnostic Review
of school leaders would recommend the Diagnostic Review as part of their school development planning
*Percentage of respondents in survey
of teachers and school leaders would recommend the TDT Associate Qualification in CPD Leadership to a colleague
*Percentage of respondents in survey
Our Research and Insights
Read about the research that underpins our work and our insights into effective CPD
Sign up to our monthly intelligence briefing for everyone interested in professional learning
On school improvement, teaching and learning, morale and teacher retention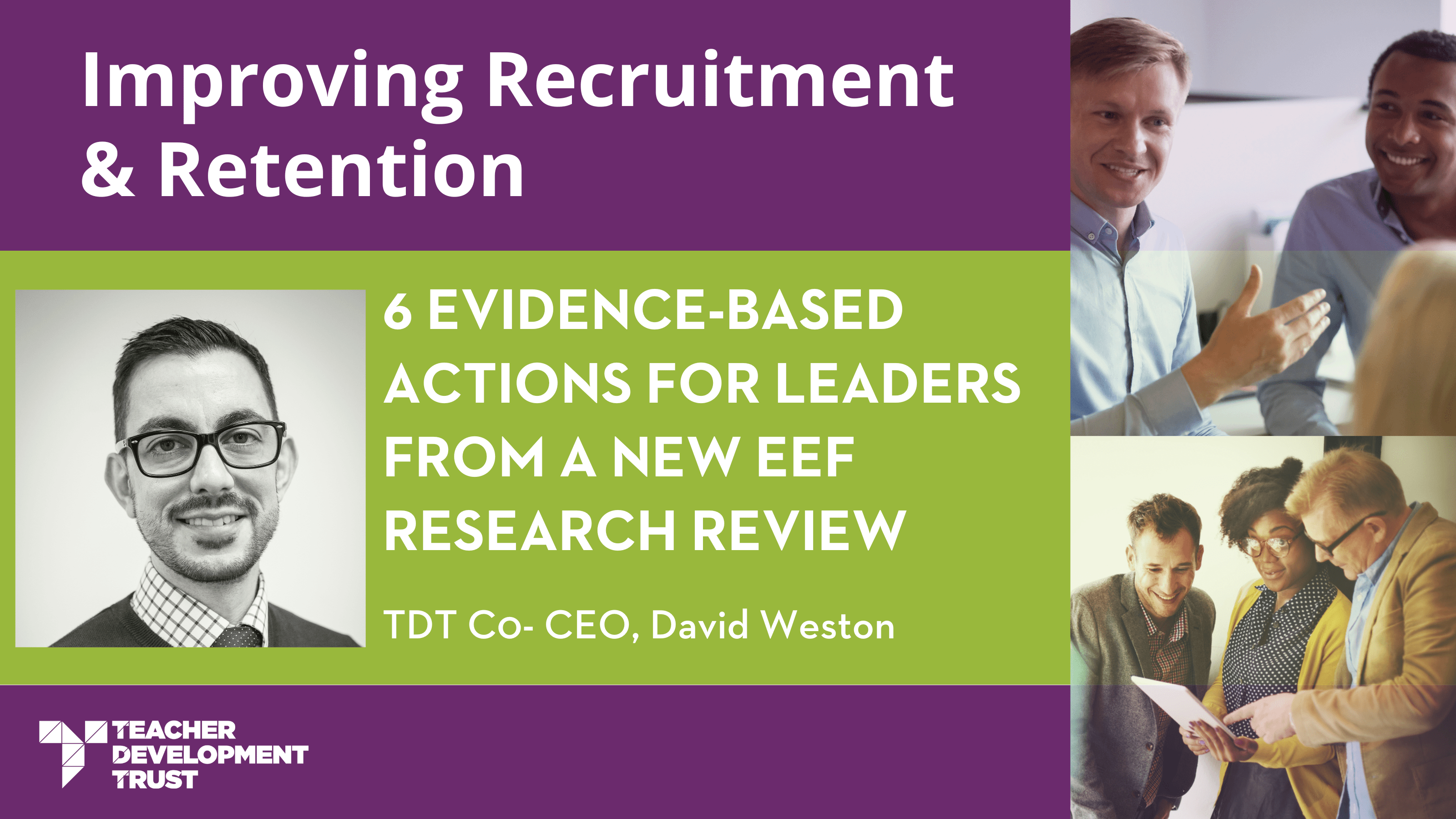 A new research review from the Education Endowment Foundation, published today (9th June, 2023), reveals some promising angles for school leaders to try and address the increasing challenges of teacher attrition and recruitment. The review, conducted by a team of...