Staff in state-funded schools in England are now eligible for full scholarship funding* for all of the fully reformed and updated National Professional Qualifications (NPQs). That means government will fully cover all course fees*, with schools now having to focus only on providing the right support and time for colleagues to engage in study.
This is a major new piece of support from the government and gives schools a significant new source of funding for high quality training.
STOP PRESS: Hurry – the deadline for completing a full application process for our November cohorts is the 18th of October – click here to start your application.
The new suite of NPQs includes three new specialist qualifications and three leadership qualifications. The Teacher Development Trust is proud to be offering all of these courses with our core focus on effective communication, teamwork and skills to create lasting, sustainable change. Click on each course for more information and to start an application.
Three fully reformed leadership qualifications:
NPQ for Senior Leaders: Develop school-wide, senior leadership responsibilities and bring staff with you on the journey with the NPQSL.
NPQ for Headteachers: Lead effective, school-wide change through the art, craft and science of people development with the NPQH.
NPQ for Executive Leaders: Take your leadership to new levels, working across multiple schools with NPQEL.
And three brand-new specialist qualifications and career routes with full scholarship funding for ALL staff in state schools*:
NPQ for Leading Behaviour & Culture: Lead the improvement of pupil wellbeing, create calm classrooms, great pupil behaviour and a warm whole-school culture through the NPQLBC.
NPQ for Leading Teacher Development: Lead the development of other staff in your schools – especially those in initial training or in their early careers – through coaching, mentoring and designing the highest quality CPD programmes through the NPQLTD.
NPQ for Leading Teaching (& Curriculum): Lead great quality teaching and curriculum, whether in a subject, year group, key stage or phase through the NPQLT.
Teacher Development Trust is the national charity for school improvement through people development. Our approach to leadership development is rooted in giving you the communication and change skills that bring colleagues with you and create sustainable impact.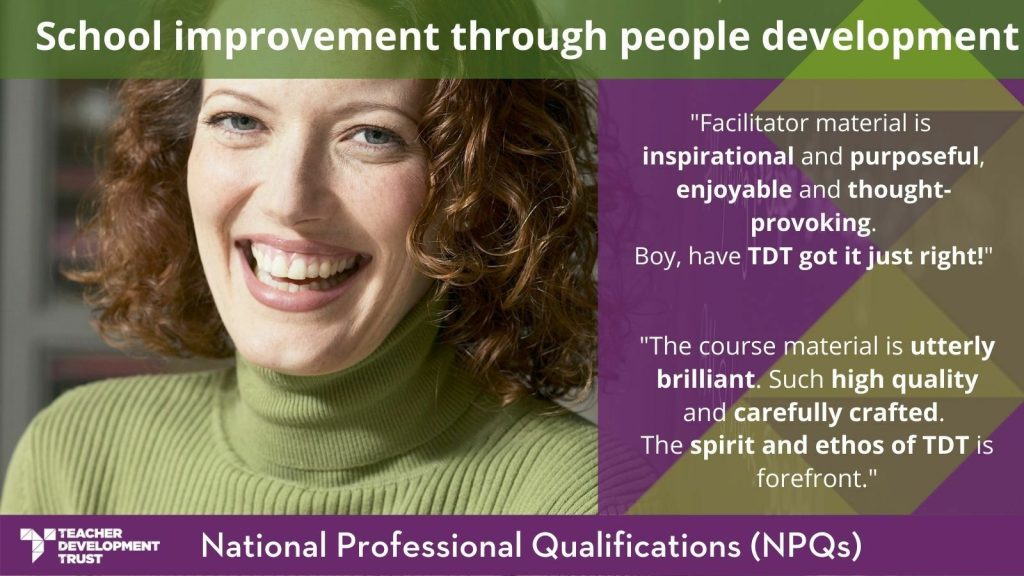 Find out why 100s of school leaders and teachers are choosing TDT National Professional Qualifications as the next step in their development journey.
Application deadline for November start date is Monday 18th October – don't miss your chance to book a place!

*Read more from the Department for Education (England) about the NPQs and funding eligibility.