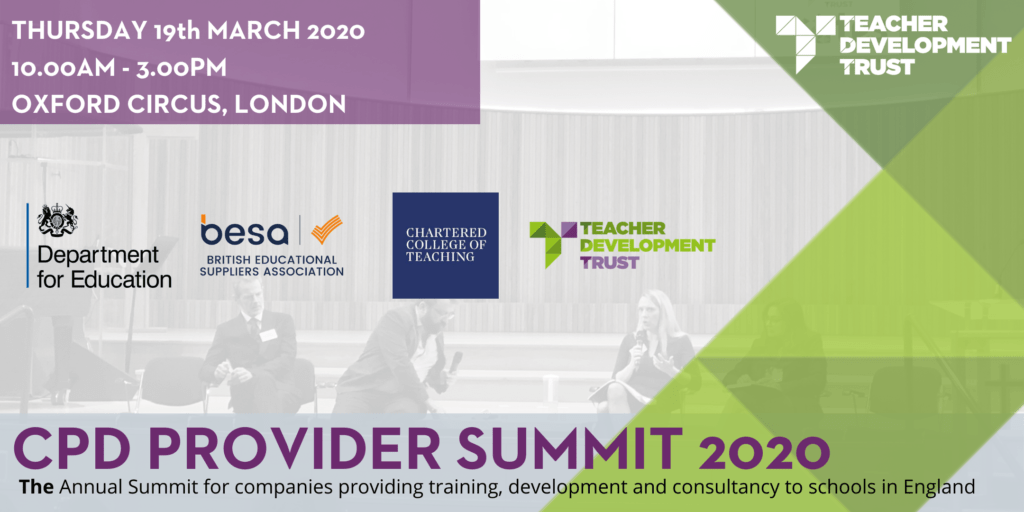 The environment for CPD providers has never looked more complex. With budget pressures, policy and accountability change, David Weston explores the big challenges for anyone providing training, consultancy and conferences for teachers and school leaders, ahead of the TDT's CPD Provider Summit 2020 (19th March, London).
CPD Providers have faced an uphill task in the last year.
It's harder than ever to get staff out of school and many have been under pressure to try and offer more support on more complex topics in less time. School funding remains very tight, even with the promise of more in future. In the face of all of this change, what are the key trends to be aware of?
A focus on curriculum – we're seeing school leaders increasingly change their spending priority to respond to supporting curriculum development and middle leadership. From the schools we work with, internal CPD sessions are, increasingly, focused on subject-specific discussion and curriculum development work. However, many middle leaders are feeling unprepared for the speed of this work, despite broadly welcoming more chance to discuss subjects and topics in more depth.
Funding remains tight – cost pressures have continued to rise in schools and the recent trend has been that CPD budgets are being cut in more schools than are increasing them. There are some tentative early signs of a recovery in spending at secondary levels – we're hoping to present some new research on this at our conference next month.
MAT centralisation is a continuing trend – central teams are looking to leverage their own expertise and commission work centrally to try and make savings. This presents an opportunity to partner with some Trusts but also presents a challenge for the system with groups relying on their own best practice rather than necessarily seeking out the best expertise in the country. There are sometimes tensions between central team priorities and provision and what individual schools and headteachers are trying to do – providers can get stuck in the middle. Similarly, providers commissioned to work across groups of schools may be providing greater perceived value for money, but individual schools can be less bought in to the training and may see it as less relevant to things they individually commission.
Teaching Schools are changing – the change continues from 800 Alliances to something more like one hundred Teaching School Hubs covering bigger areas. A big focus of these hubs will be development and training, from ITT, the new Early Career Framework, leadership, subject-specific training, and so on. This is an attempt to consolidate the recent proliferation of local providers, hubs, alliances, partnerships, and so on. This presents challenges for providers who've partnered with individual alliances and challenges for schools who have to navigate another change in the local market.
New DfE policy, frameworks and pathways – the big national rollout of the Early Career Framework continues, with implications for leaders, mentors and any CPD provider operating in this space. This will be followed in the next few years with new Specialist National Professional Qualifications, including one for specialist Teacher Developers. Any NPQ or leadership provider needs to keep a close eye on this work.
A proliferation of online, blended and video-based provision. We've seen many providers shift significant effort into online platforms. Many of our schools have been attracted by cheaper, online offers, although we've also (anecdotally) heard significant worries about whether these online-only options have the same traction and impact as more blended or fully face-to-face training offers – sometimes staff engagement is less visible to leaders and therefore harder to support in-house. It's becoming a crowded space with a number of big providers putting a lot of resource into competing online and blended training offers.
A future quality assurance system – providers need to be aware of the exploration of a new CPD quality assurance model. Led by the Chartered College, funded by the Wellcome Trust and with the partnership of my organisation, Teacher Development Trust, work has been done to explore the potential of a quality assurance system that can help school leaders make better commissioning decisions when looking for expert CPD input.
At our event on the 19th of March, we have speakers from the Department for Education, Chartered College of Teaching and a number of market experts exploring trends in demand, school spending and commissioning. We'll be exploring the use of technology and reflecting on how schools, MATs and others are changing the way they commission CPD. We'll also be offering opportunities for providers to network and learn from each other.